Camillo Favaro
Born in Piverone, province of Turin, where he lives and works. For twenty years he has been dividing his energies and thoughts between the profession of winemaker in the family winery in Canavese and the creative agency ArtevinoStudio, specialized in communication and design for wineries.
He recounted his first Burgundian joyride in the collective volume "Wines and routes of Burgundy" (Artevino, 2007), strating from which it all began.
Among his latest works, the book "Everyone calls him Lambrusco" (Fil Rouge, 2017). With Giampaolo Gravina he published in 2012 the first edition of "Wines and lands of Burgundy" (Artevino) and in 2018 the second extended and comprehensive edition of Côte d'Or, Chablis, Côte Chalonnaise and Mâçonnais (Fil Rouge editore).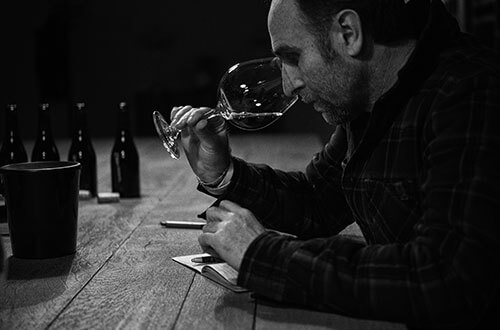 The photographer

Maurizio Gjivovich
Born in 1975 and professional since 2000, with his reports that explore political and social contexts Maurizio has worked for national newspapers and magazines including La Repubblica, L'Espresso, Specchio de La Stampa, Corriere Magazine of Corriere della Sera, Internazionale, Gente di photography and many others.
In 2005 he participated in the Rome Photo Festival and in 2013 in the Perugia Social Photo Fest where he presented his first project dedicated to immigration, "Waiting".
In 2008, with Artists of Palestine he won a special mention in the "Photojournalism" section of the Creative Quality Award in Professional Photography organized by TAU Visual. In 2014 he won the Winner Gold award in the "Stories" section at the FIOF Awards Orvieto 2014.
At PX3 – Prix de la Photographie Paris 2016 he won the Gold prize in Advertising/ Annual Reports with Make Europe no border/Idomeni 2016. In March of the same year he climbed on the third step of the podium of the Tokyo International Photography Festival prize Competition, with "Beyond the sea".

www.gjivovich.com
Publisher

Artevinostudio-Fil Rouge
Fil Rouge is a small Italian publishing house which published the 2018 edition of the book Wines and Vineyards of Burgundy. Its driving force is the creative agency Artevino Studio, which specializes in design and communication for wineries. The staff members, always accompanied by photographer Maurizio Gjivovich, have been working together since 2007, sharing trips, projects and ideas. The company's editorial activity includes the books Vini e percorsi di Borgogna (2007), Wines and Vineyards of Burgundy (2012 and 2018) and Everyone calls it Lambrusco, published in Italian and English, which explores the Modena area through interviews with local winegrowers. In 2021 the adventure of the QUADERNI begins. It's a little book which tell the stories of Italian and foreign winemakers and wines. In 2022, the first notebook on the Domaine de la Romanée-Conti is published.